Virtual737 with Microsoft Flight Simulator 2004 - www.virtual737.com.ar
Welcome to the Virtual 737 site. Here you will find operational and training notes about how to fly the real 737 in the virtual space. Feel free to use anything here for your own personal use or as training aids.
BOEING 737 Next Generation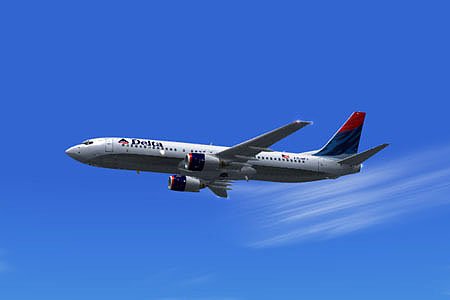 Boeing's Next Generation 737-800 and 737-900 are the largest members of the strong selling 737 family. Unlike the other Next Generation 737s, the -800 and -900 introduce new fuselage lengths, extending 737 single class seating range out to 189, compared with 100 in the original 737-100.

Like the -600 and -700, the -800 and -900 feature the Next Generation improvements including more efficient CFM56-7B turbofans, the new wing with greater chord, span and wing area, larger tail surfaces and the 777 style EFIS flightdeck with six flat panel LCDs which can present information as on the 777 or as on the 737-300/400/500 series, the latter allowing a common pilot type rating for the two 737 families. A HUD is optional. BBJ style winglets are offered as an optional feature for the -800.

Until its launch on September 5, 1994 the 737-800 was known as the 737-400X Stretch. Compared with the -400 the -800 is 3.02m (9ft 9in) longer, taking typical two class seating from 146 to 162, while range is significantly increased. The -800 has sold strongly since its launch, and early 2002 was the highest selling Next Generation model. First flight was on July 31 1997, first delivery (to Hapag Lloyd) was in April 1998.

The largest single order for the -800 series has come from the Irish budget carrier, Ryanair. After 28 had already been ordered earlier, a firm order for 100 aircraft was made in January 2002, with an option of another 50, to be delivered over the next 8 years. Ryanair will use the aircraft in a single class configuration, to seat 189 passengers.

A variant of the 737-800 is the Boeing Business Jet 2 (BBJ2), which is described separately.

The 737-900 is the largest and latest member of the 737 family, and was launched on September 10, 1997 with an order for 10 from Alaska Airlines. A 1.57m (5ft 2in) plug forward of the wing and a 1.07m (3ft 6in) plug rear compared with the -800 increases seating to 177 in two classes (maximum seating is the same as the 737-800's due to emergency exit requirements). First flight was made August 3, 2000, and the first delivery (to Alaska Airlines) May 15, 2001.
---

NEW! Airways to KMZ - Aw2Ge
With this application you can find realistic air routes between airports around the world and export it in KMZ format.

Screenshot

Screenshot

---
Boeing 737 Aircraft Operations Manual (AOM)
Boeing 737 300-400-500
REMOVED
PDF format, 12.6MB
Boeing 737NG 600-700-800-900
REMOVED
PDF format, 28.0MB
PMDG 737NG 600-700-800-900 (AOM) (Apr, 2004)
Tutorial - Flying the 737NG
From Madrid-Barajas (LEMD) to Tenerife (GCXO)
From Spain International (PGSN) to Guam International Airport (PGUM)
Landing at Princess Juliana (TNCM) - St. Maarten
From Seattle-Tacoma (KSEA) to Las Vegas Mc Carran (KLAS) at night
From Jorge Newbery Airport (SABE) Buenos Aires (AR) to Teniente Benjamín Matienzo Intl. Airport (SANT) Tucumán (AR)
Airways to KMZ - Aw2Ge
With this application you can find realistic air routes between airports around the world and export it in KMZ or KML format.

Screenshot

Screenshot

---

Update your Terminal Procedures with PlanePath

Update your AIRAC Cycle with Navigraph

Update your SID/STAR with NAVData - Service

Microsoft Flight Simulator 2004 - Basic Flying Lessons
More information from the Learning Center
...thanks Microsoft Flight Simulator and Rod Machado for the great Flying Lessons
Additional information and useful links from Google
Checklists for simulators
Airbus
Beech Aircraft
Boeing
Bombardier
Cessna
Cirrus aircraft
McDonnell Douglas
Additional information and useful links from Google
Know and download my set of free PC and Internet utilities


World POI database, large database with 6,664,015 of cities and POIs


KMZ/KML format converter for waypoints, routes and tracks


Global Weather 3D, view the world wide weather conditions

more free utilities, click HERE
Questions ... Comments ... Suggestions? Let me know!
Please enter the following link...
CONTACT FORM
The flight and cockpit procedures, which are shown here, have no academic purpose whatsoever, nor are they validated for training, nor do they have any application in the real aviation, their finality is to entertain the amateur flight simulation community. The authors and procedures assume no responsibility whatsoever in the use that is made of this information neither by third parties, physical or juridical, nor of the direct or indirect consequences derived from their actions.

Disclaimer for Non-Official Microsoft Flight Simulator web page:
This page is not a publication of Microsoft Corporation. It has not been edited or examined for content by Microsoft. The author(s) of the page are solely responsible for the content.
| | | |
| --- | --- | --- |
| by David Aguirre Grazio, Copyright © 2005-2011 | | All trademarks used are properties of their respective owners. |